Health Care & Nursing Home Blinds From First Choice Blinds are Safe, Durable & Stylish.

At First Choice Blinds commercial blinds we specialize in Hospital and Health care blinds.
We offer the latest technology and products available in window solutions. We understand that not all businesses are the same and we provide a high quality service and products suitable to your budget.
First Choice Blinds clients come from a diverse range of industries; from Hospital and healthcare facilities to restaurants, and showrooms to office buildings.
We offer both manual and motorised blinds are tailored for your project, whether it is a small waiting room or a large production facility.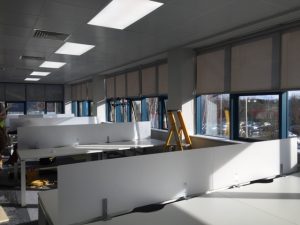 We make and fit all types of hospital blinds, cubicle rails and curtains.
HSE approved, MRSA resistant anti-microbial blinds & curtains for hospitals, nursing homes & clinics
Anti ligature blinds, cubicle rails and products for high risk wards and private rooms
Our clients include HSE, private nursing homes, doctors & consultants throughout Ireland
Irish, family owned manufacturers, designing and installing commercial solutions for over 60 years
At First Choice Blinds we offer a personal service to architects, designers, contractors and end users
Modern design, technical innovation, quality cost effective solutions and after sales service]
For over 20 years First Choice Blinds have been supplying made-to-measure blinds to Offices, Hospitals, Schools and Hotels .
First Choice Blinds have the expertise to advise you on choosing the correct blind for your work environment.
From your lighting requirements to the technical aspects of controlling glare and heat in a room our range of modern colours and styles can be made specific to your indiviudal needs.
We ensure every room or office has a blind that fits perfectly, is functional and cost effective for its purpose.
We are widely known for our quality of binds, the basis on which we have built our business over nearly three decades so we can guarantee our blinds will meet all your testing standards for Hygiene, Safety, Flame Retardant guidelines and Moisture.
Working with the industry leaders in material manufacture we can provide government agency certification for all our blinds in the hygiene and flame retardant categories.