Custom Fitted Roller Blinds
Are Practical In Any Room
Roller blinds are composed of fabric attached to a roller. The roller blind pole is typically made of aluminum tubes. The blinds come in various colours and fabric options.
Kitchen roller blinds are available in a wide range of colours and prints.
Bathroom roller blinds are moisture-resistant due to the humidity of the bathroom.
Blackout roller blinds keep rooms shaded, and are a fantastic choice when it comes to bedrooms especially for young children and babies.
We now supply motorised roller blinds that are controlled by remote control and can also be controlled by an app on your phone.
This type of blind is great if you are often away as through our app you can control when your blinds are opened and closed!  This provides a wonderful sense of security when you need it most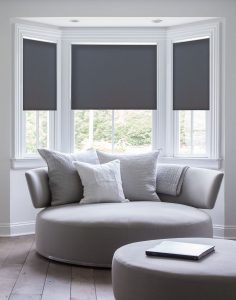 Roller Blinds From First Choice Blinds
Choose from modern, contemporary designs and soft hues, to roller blinds with bold, attention-grabbing prowess to create the perfect window feature. All of our quality, durable roller blind range are made with a sturdy, robust aluminium poles and side winder control.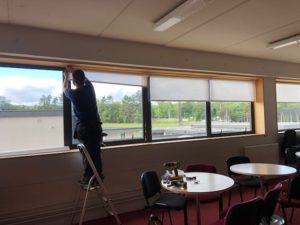 Roller Blinds continue to be an extremely popular choice in Irish homes, their versatility allowing them to provide the perfect complement to any interior setting. Timelessly elegant, Roller Blinds make it really easy to control the amount of natural light you let into your room