School Blinds From First Choice Blinds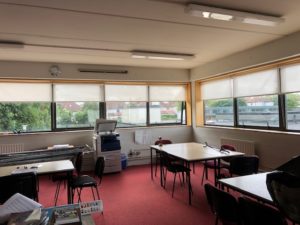 First Choice Blinds offer the education sector a complete package of specialist blinds.
All of our products are fitted with child safety devices.
Fabrics are not only flame retardant but also durable and practical. First Choice Blinds provide specialist blinds, all custom made, to cover angular, sloping, roof lights and windows where blackout is required.
Our Blinds are:
Safe, Durable, Practical, A
ffordable and Stylish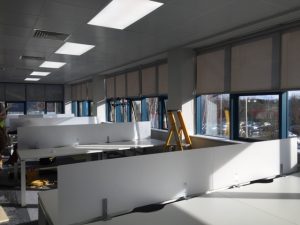 Custom Window Blinds for Schools
At First Choice Blinds we can use a roller blind that blocks the UV part of the light that is responsible for the glare on screens and whiteboards but still lets the friendly light in? And our blockout or blackout blinds also reduce heat transference, thus reducing your air conditioning or cooling costs.
During the day, the special fabric used to make our roller blinds allows you to see outside but won't allow those outside to see in, ensuring privacy in the classroom and minimising external visual disruptions to your students learning experiences.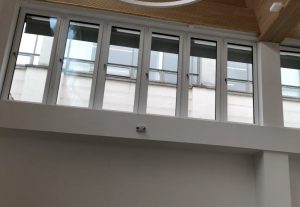 Our school window blinds are made from quality materials guaranteed for 3 years!
Our window blinds for schools can be manufactured with blockout, screen or opaque materials, are anti-fungal and easily cleaned.
All our school window blinds are printed and fabricated right here in Dublin.
We also offer a logo printing service
100% Irish made custom image window roller blinds
Premium quality easy to fit brackets and winders for ease of installation
Our school window blinds are manufactured with inks that will not fade
Anti curl window blind material for a great finish
Our classroom window coverings are also energy efficient
Want help designing the perfect blinds for schools?
Let our in-house designers create custom designed school window blinds for you.