School Blinds from First Choice Blinds
First Choice Blinds has for many years been recognised as a leading supplier of blinds for schools, colleges and universities throughout Ireland.
We special in the installation of heavy duty contract quality window shading solution in the form of Blinds both manual and motorised. These are designed to provide controls to reduce glare and heat but also increase security and privacy.
Safety in schools is something that First Choice Blinds takes most seriously. Any blinds that require cord or chain controls will be fitted with anti-ligature safety clips as standard in all classrooms or areas where children are.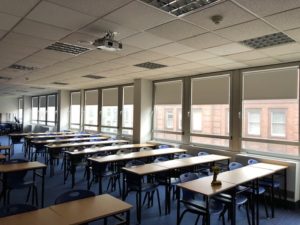 For interactive whiteboards
At Acorn Blinds, we have catered for many schools providing the solution to anti-glare and light elimination in classrooms. With the introduction of the new whiteboard systems in schools, it is becoming more and more frequent for schools to contact us looking for a solution for school blinds.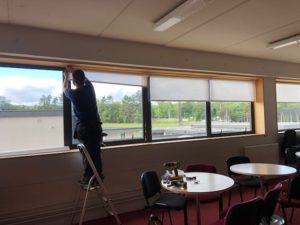 Blackout blinds
We are specialist in Blackout roller blinds and Screen blinds ideal for interactive whiteboards in schools.
First Choice Blinds comply with Department of Education specifications. Child safe and fire retardant.
Child Safety