Screen Blinds…Can be motorised or manual
First Choice Blinds screen window blinds, also known as solar window screens or sun shades, are a type of window treatment designed to reduce the amount of sunlight and heat that enters a room while still allowing for visibility and airflow. They are typically made of a durable mesh fabric that blocks a significant portion of the sun's rays.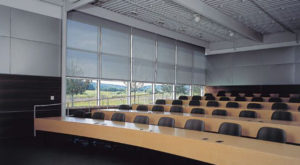 Here are some key features and benefits of screen window blinds:
Sunlight and heat reduction: First Choice Blinds screen window blinds are designed to block a certain percentage of sunlight, depending on the material used. This helps reduce glare and heat gain, making your living space more comfortable and energy-efficient.
UV protection: The mesh fabric used in screen blinds is effective at blocking harmful UV rays. This not only protects your skin and eyes from the sun's damaging effects but also helps prevent furniture, flooring, and artwork from fading due to prolonged sun exposure.
Privacy and visibility: First Choice Blinds screen blinds offer varying degrees of privacy depending on the material's opacity. They provide privacy during the daytime while still allowing you to maintain a view of the outside. However, at night, when interior lights are on, screen blinds may compromise privacy.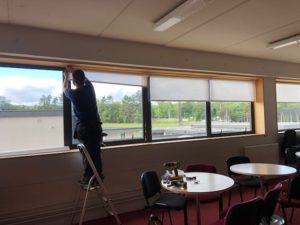 Airflow and ventilation: Unlike solid window coverings, screen blinds allow for airflow and ventilation. This can be particularly beneficial during warmer months when you want to keep your windows open but still want some shade and protection from insects Energy efficiency: By reducing the amount of sunlight and heat entering your home, screen window blinds can help lower your cooling costs during hot weather. They can also contribute to overall energy efficiency by reducing the strain on air conditioning systems.
Easy maintenance:First Choice Blinds  screen blinds are relatively easy to clean and maintain. They can usually be wiped down with a damp cloth or vacuumed to remove dust and debris.
Customization options: Screen blinds come in a variety of colors and designs to complement your interior décor. You can choose from different opacity levels to achieve your desired balance of privacy and visibility.
It's worth noting that screen blinds may not completely block out all sunlight or provide total privacy, as they are designed to strike a balance between light control, heat reduction, and visibility. If you require complete darkness or enhanced privacy, you may need to consider other window treatment options such as blackout cassette blinds.

We cover all of Dublin including
Tallaght
Rathfarnham
Templeogue
Dundrum
Sandyford
Stillorgan
Blackrock
Dun Laoghaire
Killiney
Dalkey
Ballybrack
Shankill
Rathmines
Ranelagh
Ballsbridge
Donnybrook
Terenure
Clonskeagh
Rathgar
Walkinstown