The Benefits of Wood Venetian Blinds From First Choice Blinds
Wooden Venetian Blinds are seen as the ultimate stylish window treatment which provides a sophisticated silhouette with unrivalled functionality.
These Blinds prove very effective in sitting rooms, where people can reap the full benefits of a clever, classic design. So if you are on the lookout for new blinds for your sitting rooms or for that matter any other rooms in your home, these are the perfect solution.
If one word could describe Wooden Venetian Blinds, it would be functional. Why? They offer a high degree of rotation that ensures precise light control along with privacy.
Due to the natural strength and durability of wood, it means that these blinds will stand the test of time, and thus making them a very cost-effective solution.
Wooden blinds are a truly beautiful window dressing to have in your home. Wood brings a natural distinct beauty through its warmth and texture.
                          WE OFFER BOTH MOTORISED AND MANUAL OPTIONS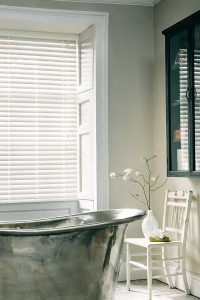 Top Benefits of Wooden Venetian Blinds From First Choice Blinds:
Versatile Style:
Versatility is a word that really defines the natural beauty of wooden blinds.
The natural qualities of their style means that they can be installed to suit any type of décor. Whether you have a cosy small home with traditional furniture with carpeted floors or a modern open-plan home with lots of light and sleek furnishings, wooden blinds will work very well in either case.
Plus there isn't an issue when it comes to matching colors as there are 14 colors to choose from. Thus there won't be a problem getting a shade to match your room surroundings, no matter if you live in a period property or contemporary new build.
                                                   We supply all of Dublin and surrounding areas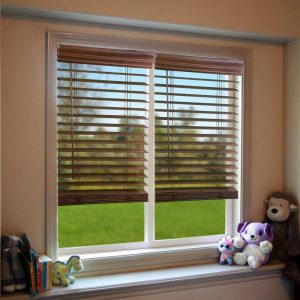 About our wood blinds:
Wood is a naturally warm material, both in terms of its insulation and energy efficiency, along with the cosy, comfortable style it exudes.
The loss of heat from your room is drastically reduced when the blinds are closed which creates a strong barrier. Should you live in an older property, your blinds will protect against unwanted drafts also. With the installation of wooden venetian blinds, your home with benefit from enhanced thermal efficiency during the colder months, making sure that you and your family will stay warm without having to turn up the temperature.
Areas covered:
All of Dublin and surrounding areas including
Perfect for Bay Windows
Wooden Venetian Blinds work really well for Bay Windows. By choosing our made to measure blind fitting service, you can purchase bespoke wooden blinds that will precisely fit your windows which offer full functionality while still looking great. Plantation or Wooden Shutters may also be an option which First Choice Blinds also provides.
If you want good visibility and want to make the most of the natural sunlight, opt for large slats or louvres or choose narrow ones if you require more privacy. Tier-on-tier shutters also allow a top and bottom section of the shutter to open independently.
Faux Wood Venetians
Sometimes Wood Venetian Blinds may not be the best option for you and thus Faux Wood Venetian Blinds may be the answer.
Our Faux Wooden Venetian Blinds are made from PVC, which makes them water resistant and very durable. If you have a busy home with kids and pets, these blinds might be the best solution for you.
As Faux Wood Venetians to the naked eye look very similar to Wood Venetian Blinds in terms of authentic looking wood, they still provide the same beauty and warmth of a natural style. However you can still enjoy the added benefit of easy cleaning and maintenance and you won't need to worry about warping, bending or fading over time.
Discover the best Wooden blinds for your home by contacting us today for a FREE quotation.
                                                                                     Call us on 01 4416366 or 086-0499552