Blinds Experts for the Commercial Market
First Choice Blinds are the first call for commercial window blinds for Schools, Hospitals, Offices, Building Contractors, Hotels, Space Planners, Commercial Interior Designers and other specialised applications.
We are specialists of both motorised and manual blinds of all types.
First Choice Blinds commercial blinds have a team of expert advisors who will discuss your business requirements, assess the size, type of windows and purpose of the rooms to provide a solution that meets your exact specification.
Fully insured, C2 Registered, Safe pass compliant.
We supply blinds and curtains for contract commercial projects,interiors – offices, hotels, museums, galleries and all types of commercial applications.
We work with specifiers and designers to develop special shading solutions.
We are leaders in Blind automation we partner Coulisse & Smartshade integrated blind solutions.
Our expert staff have years of experience in working with leading architectural firms, specifiers, construction companies and Government agencies in Ireland.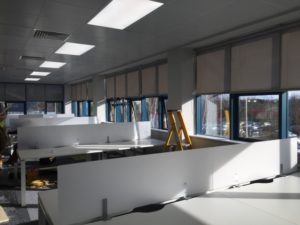 For over 20 years First Choice Blinds have been supplying made-to-measure blinds to Offices, Hospitals, Schools and Hotels in Dublin. First Choice Blinds have the expertise to advise you on choosing the correct blind for your work environment.
From your lighting requirements to the technical aspects of controlling glare and heat in a room our range of modern colours and styles can be made specific to your indiviudal needs. We ensure every room or office has a blind that fits perfectly, is functional and cost effective for its purpose.
We are widely known for our quality of binds, the basis on which we have built our business two decades so we can guarantee our blinds will meet all your testing standards for Hygiene, Safety, Flame Retardant guidelines and Moisture. Working with the industry leaders in material manufacture we can provide government agency certification for all our blinds in the hygiene and flame retardant categories.
Office Blinds
We have a special range of blinds suited to offices, conference rooms and reception areas in a range of colours all measured to fit your exact requirement
Hospitals & Care Homes
Hygiene is utmost when selecting blinds for a hospital or care environment but also colours should be considered for patient emotional wellbeing.
School Blinds
Blinds in classrooms need to be multi purpose by restricting glare, controlling light throughout the day but also creating a fun, bright atmosphere.
Public Building Blinds
Exhibition areas, Libraries, Museums and indoor tourist attractions all have very specific light control requirements. First Choice Blinds have this expertise
Hotel Blinds
A hotel room needs to be stylish and luxurious and your blinds play a piviotal part in creating this ambience. From creating privacy to dividing spaces.
Government Office Blinds
City Council offices and other government and local authority buildings have specific light and privacy requirements. Contact First Choice Blinds for building assessment.