Faux Wood Blinds
First Choice Blinds Faux wood blinds are the latest innovation in Venetian blinds.
They have the look of real wood without the worry of warping due to moisture.
These blinds are designed for durability and are available in simulated stained, matt paint or high gloss finish.
A great economic alternative for kitchen, bathroom or indeed any room.
They can be manual or motorised.
Faux Wood venetian blinds are relatively new to the Irish market. They are composite material usually made from polystyrene.
All components are of high quality, hardwearing, corrosion resistant materials.
The polystyrene slats have excellent colour consistency which will not fade, crack or blister, they are also Flame Retardant so they are a great alternative for kitchens.
They are very popular because they are durable and easy to clean.
They are especially particularly durable in wet or high humidity area, making them good for areas that may be exposed to moisture as they do not warp easily, making them ideal for environments such as bathrooms and wet rooms.
If you want the beauty of wooden blinds for your kitchen or bathroom but are worried about the effect of moisture, then look no further than faux wood Venetian blinds.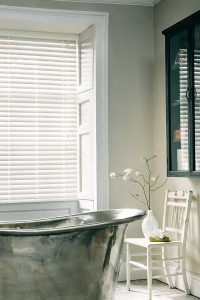 Free advice, measuring, quote and fitting!
We are an Irish owned business with over 20 years experience in the blind trade.
First Choice Blinds make it easier for you to find the best window enhancements to suit your specific space.
Through a free in-home consultation we can help you find the ideal options to decorate your home or business.
We bring samples, swatches and style to your home.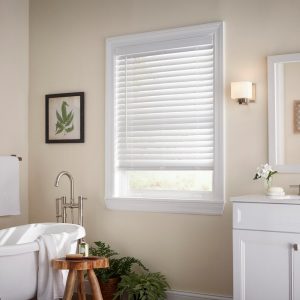 Free consultation We Supply Dublin and surrounding Areas.
Top quality blinds.
Irish owned, over 20 years experience.
Fully insured work.
All work guaranteed.
Child safety features

                                              CALL NOW ON 01-4416366 OR 086-0499552